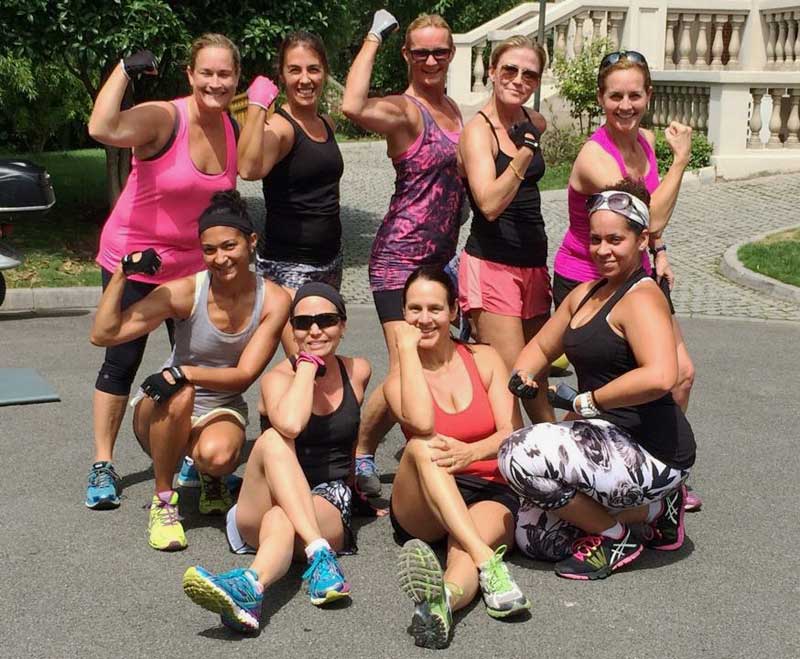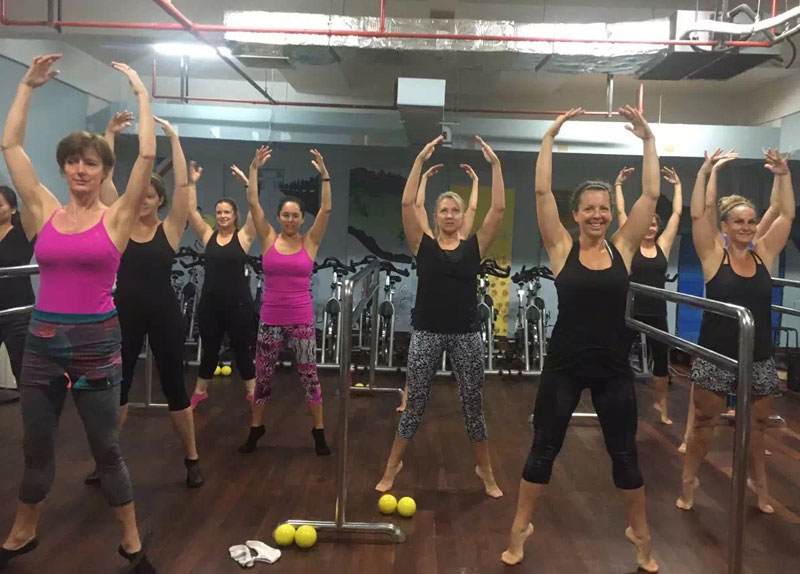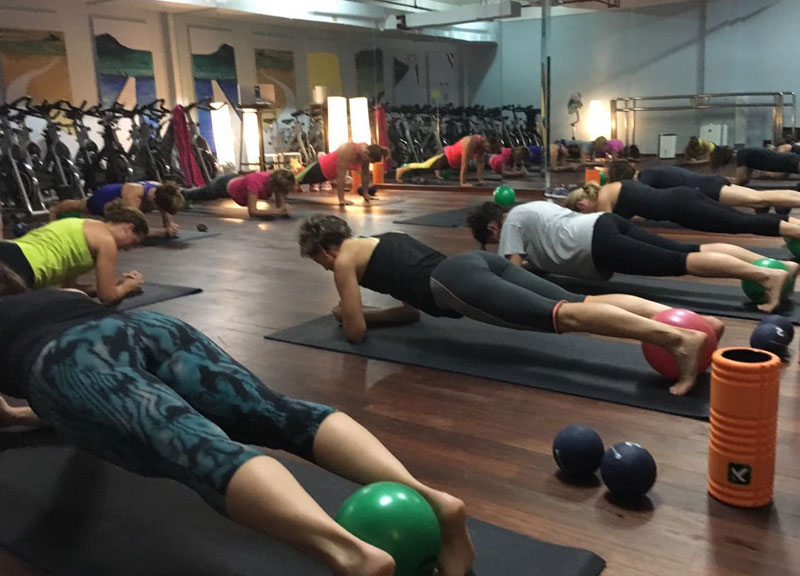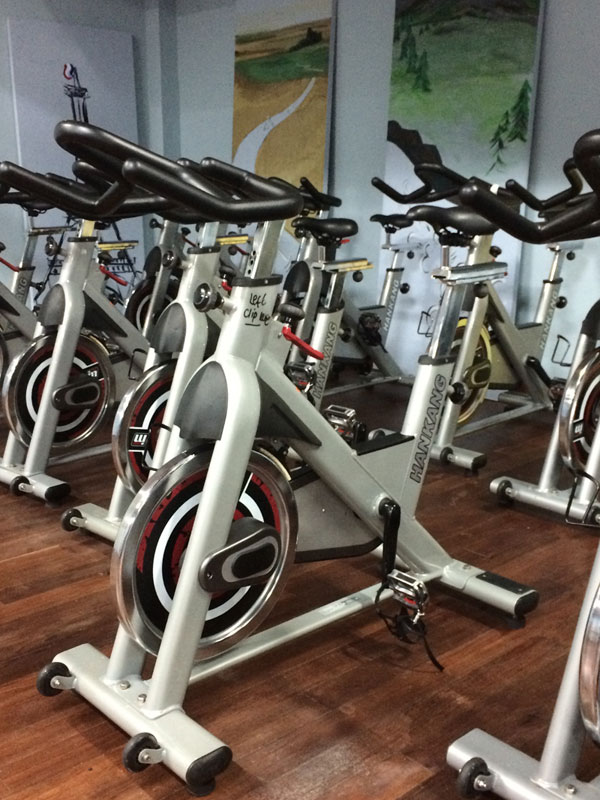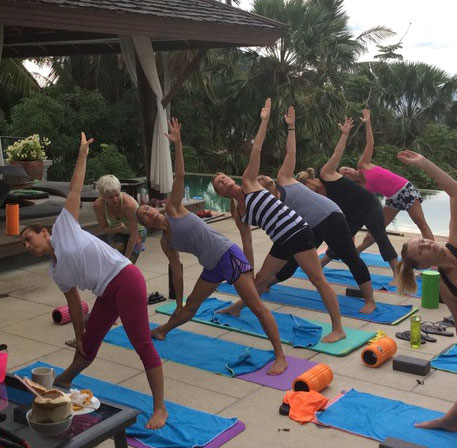 Outdoor Bootcamp:
This signature class is one of our most popular classes! Bootcamp training is an overall body workout that changes each week. Not only do you bond with wonderful women from all over the world, you will develop muscle strength, cardio endurance, and BURN calories. This class is designed to build strength and fitness through a variety of intense group intervals and body weight exercises such as push-ups, lunges, planks, squats, and core work. Use of weights, balls, jump ropes, weighted balls, TRX straps, and bands are also incorporated.
Indoor Bootcamp:
This class provides the variety your body needs to see results by combining fun cardio workouts mixed with specific muscle conditioning that will be tailored to the class's needs.  This indoor class will rotate different cardio spurts with weights and core work. This is a great class to enjoy the music and feel the "burn"!
Advanced Barre:
This class is designed to effectively strengthen, tone and balance the entire body. It integrates the use of the ballet barre, light weights and various props. You will focus on performing small isometric movements as we emphasize basic alignment, foundation, and specific muscle actions. Each class includes several highly sequences of toning and resistance exercises with focus on the core, arms, rear and thighs, with no impact. This workout is followed by a stretching section to create long, lean muscles. No dance back round required but you must have taken barre previously.
Barre Progression:
This class is an introduction to the Barre method of exercise.  We will focus on form and precision to help you get the most out of the movements.  No dance background required!
Advanced PILATES:
Want to take your Pilates practice to the next level?! Power Pilates is here! This class is a power workout for those of you that have been taking Pilates and have a solid practice of the foundations. We will be using the ring, ball, band and roller to add on to different Pilates exercises as well as learn challenging movements. The class will be a faster flow and we will utilize the Trigger Point therapy roller to increase strength, mobility, and flexibility in new ways!
PILATES Progression:
The class can completely change your posture and shape! For ALL fitness levels, this timeless class will start at the basics of Pilates and progress through all the movements that create a lifelong strong core. Pilates will build strength without bulk, improve flexibility and agility, and help prevent injury. The primary focus is awareness of the spine, proper breathing, core strength and flexibility.
SPIN:
This is a power packed class done on a stationary bike. The class focuses on endurance, strength, intervals, high intensity races and recovery. The workout uses high energy music and burns lots of calories while having fun!
Yoga – Vinyasa Basics / Slow Flow:
Level: Beginner to Advanced
Allow yourself to be a beginner; no one starts off being excellent! The pace of this class is slower than the others, but still follows a flowing sequence. Precise instruction is given to allow for a deeper understanding of alignment and breath. Beginner level sun salutations, standing poses, seated poses, balancing poses, twists and backbends will be explored, and preparations for inversions will be introduced. The fundamentals of vinyasa and intelligent movement will be covered so that students can progress to more advanced levels and understand how they can modify classes to suit their individual needs.
Yoga – Power Flow:
Level: All Levels
A sun-salutation-based class. Familiarity with yoga poses is helpful, but not mandatory. This class will generate heat in the body to help build flexibility and strength. The class follows an intelligent progression that moves from basic to deep. No fancy poses or full inversions will be taught. Some poses will be held for longer periods of time to develop greater awareness, strength and flexibility. In general, this class will move at a flowing pace. Expect to sweat.
Yoga – Vinyasa
Level: Intermediate to Advanced, not appropriate for beginners
A flowing yoga class for those with a consistent yoga practice. Deeper, more advanced poses will be explored along with full inversions, deeper backbends, and arm balances. Because of the pace of this class, an understanding of how to adapt the down dog – plank – chatturanga – up dog sequence to suit your own needs is required. Jumping back into chatturanga, and rolling over the toes into upward facing dog will be taught.
Body Sculpt:
Challenging strength training using weights, kettlebells, medicine balls, and body weight to define, develop, and tone the entire body. This workout will get your heart pumping with cardio spurts and use of equipment.
Pilates/Barre Playground:
A class that combines Barre and Pilates! Traditional Barre exercises will be incorporated with elements of Pilates using multiple props for an innovative and challenging class. Core stability and focus is emphasized throughout as you learn new ways to really work those trouble areas. Suitable for all fitness levels.

Inspiring Wellness Inside Out
Located in the Ambassy Club
Basement B1
588 Hong Feng Road
Pudong, Shanghai